We're Here to Help Now
If you are feeling suicidal or have a loved one who is in a suicidal crisis, please call (406) 453-4357 and one of our trained crisis intervention specialists will help you.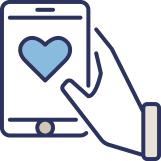 We offer a 24/7 crisis line, sexual assault advocates, resources, and compassionate and understanding staff to support you during a crisis.
Start making a difference today. There are a variety of volunteer opportunities at Voices of Hope.
Dedicated to Restoring Hope, Healing, and Dignity
For nearly 50 years, Voices of Hope of Montana has provided an empathetic ear, a caring heart, and a helping hand for anyone in need. Through providing 24/7 crisis intervention, resources, outreach, and advocacy to clientele in a safe, confidential environment, we empower the healing of individuals and the community. If you or someone you know is struggling with depression, anxiety, relationship/family problems, sexual violence or suicidal thoughts, the staff at Voices of Hope are here for you.

Improving Lives Every Day
Any time, any day – call us. Always free, always confidential. We're here for you.
Our advocates have gone through many hours of training to best serve you. They value your trust.
We genuinely believe that everyone is worthy of dignity, respect, and validation. Safety and confidentiality are our highest priorities. If you need help, we're here for you.

Based in Great Falls, Montana, Voices of Hope is the "someone" you can turn to when "nobody" understands or when "everyone" is too busy to listen.